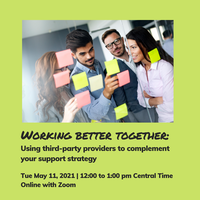 Join us for our May 11th event to learn how companies can best partner with vendors and third party service providers to complement their internal teams. The goal of every IT organization is to provide a high level of service to all users. However, few organizations have the capability to provide service on everything to everyone.
Date & Time
When: May 11, 2021 @ 12:00-1:00pm CST
10 am Pacific, 11 am Mountain, 12 pm Central, 1 pm Eastern
Where: Zoom – Get registered!

---