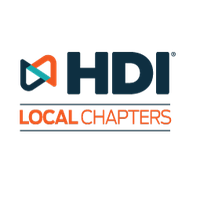 Welcome to HDI Local Chapters monthly newsletter! Highlighting events and activities around the US.
President's Message...
with Liz Bunger
Did you know that when you become a member of HDI Local Chapters you are a member of all HDI Local Chapters, not just the one where you live? You are welcome to attend any event at the member's price and many of our chapters are offering hybrid or virtual events. Check out our events calendar to see what is going on in our community. We would love to have you join us.
---
Welcome to our Newsletter!
Welcome to HDI Local Chapters! Our membership unlocks access to professional communities, events and activities designed to advance your career as an IT Technical Support or Service Management leader. With chapters and members all over the United States, staying connected is easy to do!
Published the last day of each month, this newsletter pulls together information from the HDI Local Chapters (www.hdilocalchapters.org) and HDI (www.thinkhdi.com) websites as well as from other sources. We hope to see you at one of our events soon!
---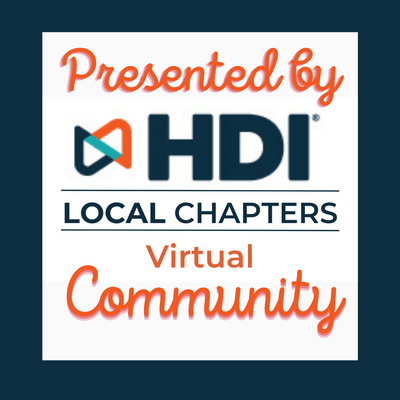 Service Desk Transformations: Four Case Studies
The modern IT Service Desk is the point of entry for all IT support related needs. It stands to reason that this team needs to be high functioning, high performing, efficient and be the friendly face of IT for your end users. What happens when this isn't the case? It could be that the Service Desk team is missing any of the marks mentioned or maybe needs to be re-evaluated for other reasons.
Many companies have gone back to square one to re-evaluate what to do to improve the Service Desk, and therefore the experience for the end users. What is the best way to move the needle to get your team to be all those things and more? The Virtual Community is partnering with a group of Service Desk leaders to share their journey of transforming their Service Desk models. They are at various stages of their adventures, from just beginning to completion of the transformation.
Panelists: Donald Chu, Kristi Lawrence, Laurie Lukken, Teresa Pelley. Moderated by Jason Wischer.
Date: September 12, 2023, 1:00-2:00 PM CT
Location: Virtual! Invitation sent before event.
Cost: Free!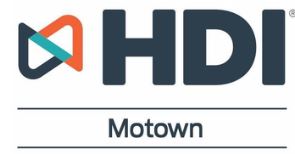 HDI Motown - Total Experience Management
Looking for an opportunity to connect with like-minded individuals and learn more about creating exceptional experiences? Look no further! We're excited to invite you to a special encore SupportWorld Live conference presentation where we'll be discussing the Total Experience, a concept that goes beyond customer and employee satisfaction. Whether you're on the front lines working directly with customers, managing a team, or making important decisions for your company, this event is for you.

Register for this hybrid event offered both in persona and virtually on Thursday September 14, 2023 beginning at 12:00pm ET.

Join us for an engaging discussion, network with fellow attendees, and leave with a wealth of knowledge to help you create unforgettable experiences. Don't miss out on this chance to elevate your total experience game!

Total experience is a holistic approach to creating exceptional experiences for customers that extends beyond traditional customer service. It takes into account every aspect of a customer's journey, including interactions with employees, digital touch points, product design, and more.
Date: September 14th, 2023 from 12:00-2:00 PM ET
Location: Virtual and 4000 Town Center Suite 200, Southfield, MI 48075
Cost: Free for members and non-members
---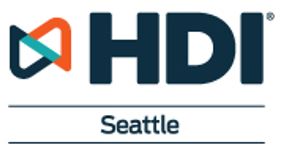 Service Management Summit
Featuring 2 keynote presentations:
Eva Benn: AI Unleashed. Securing the Future in a World We No Longer Recognize.

Boris Gancharov: The Future of Cybersecurity.
Additional Topics:
CMDB Serves Beyond Service Desk and IT.

Service Management Panel (Local Seattle ITSM Leadership)

How to Build an IT Service Management Team
Date: September 28, 2023, from 3:00-6:00 PM PT
Location: 10400 NE 4th St, Bellevue, WA 98004, USA
Cost: Free!
---

Updates from HDI...Check out these great industry happenings!
---

November 11-15, 2023, Loews Sapphire Falls Resort, Orlando, FL
With three decades of experience as a resource for service management and technical support professionals, HDI doesn't just stay ahead of industry trends—we help set them. Let our program, our experts, and your fellow attendees help you embrace today's ever changing landscape. Attend the definitive event for Service Management professionals and propel your business and career forward. Reserve your spot today!

Early bird pricing expires on September 29th. Reserve your spot today and save $400!
HDI Local Chapter members save another $350! That pays for your membership and a whole lot more!
Not a member? A link to join HDI Local Chapters is at the bottom of this newsletter. After joining (or if you are a member now) click here to search for your local chapter's promo code to add it to your conference registration to receive the discount.

We hope to see you in November! Click here for more information and to register.
---
HDI STANDS FOR A DIVERSE AND INCLUSIVE COMMUNITY
HDI supports an inclusive community of service and support professionals. In today's climate, it is one thing for us to stand and support these intentions; it's another thing to take action around them.
Click here to read our action plan and become involved in making a difference.
---
HDI CONNECT...Now more than Ever!
Need someone to lean on during these difficult times? Need some help in solving some problems? HDI Connect is where our community comes together to help each other. Click here to sign up!
---
WEBINARS FROM HDI
HDI maintains a comprehensive list of archived webinars on a wide variety of topics over the past several years. Good information and it is free! Click here to access the library and to view what is coming up.
---
HDI TRAINING
HDI offers certification courses to enhance the knowledge of your team. Courses available on a wide variety of topics that will improve thew operations of your service desk. Click here for schedule. HDI Local Chapter members receive a 5% discount off of the published training rates!
Back to School Super Savings Program!
HDI Online Certification and Training - Buy2Get1Free*! Request discount through your account executive.
*of equal or lesser value. Expires October 13, 2023
Choose from...Customer Service Representative, Desktop Advanced Support Technician, Support Center Analyst, KCS Foundation, KCS Principes, Support Center Team Lead.
This is a great opportunity to improve your team's service management and IT support skills!
---
IS YOUR SUPPORT CENTER DUE FOR A CHECK-UP?
It'll be thorough, but nothing too invasive, we promise!
HDI's IT Support Operations Health Check is designed to provide your organization with a quick analysis of your organization's operational effectiveness. Key foundational areas are reviewed and compared to best practices, and recommendations are made based on your organizational goals. An HDI HealthCheck can be conducted live onsite, or through an easy and convenient virtual format!
Click here for more information..
---
JOIN HDI
Connect - Learn - Succeed for one low annual membership fee $149 per year. Click here to join!
---
GET SOCIAL WITH US!
---
THANK YOU TO OUR HDI LOCAL CHAPTER SPONSORS

---