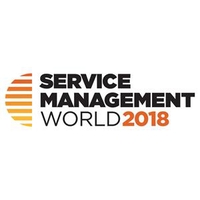 COLORADO SPRINGS, Colo., July 25, 2018 (GLOBE NEWSWIRE) -- HDI, the leading organization dedicated to elevating service and support across the enterprise, announces its conference program for Service Management World taking place October 15-17. The 2018 event will offer interactive, outcome-oriented sessions that focus on topics most pertinent to the needs of service management leaders. Attendees will explore the strategic and tactical elements of developing an optimal service management strategy and participate in thoughtful discussions focused on key trends such as AI, digital transformation, DevOps, OCM and more.
Service Management World will take place October 15-17, 2018 at the Omni Orlando Resort at ChampionsGate in Orlando, FL. For more information, please visit: smworld.com/
"Service Management World was developed to provide attendees with the tools they need to establish a holistic approach to their service management strategy," said Joy Sobhani, Group Event Director, HDI. "Our innovative conference program allows service management leaders to improve every aspect of their service operations in one all-encompassing event. Attendees can build their big picture strategy and develop cutting-edge skills to help navigate the rapidly changing needs of this industry."
Service Management World 2018 Program Highlights:
Connecting the Dots

Decisions that Drive Results

Envisioning the Future – Disruptors and Innovators

People Make the Difference: Attitude, Behavior, Culture

Optimizing Service Experience

Service Management Beyond IT (It's a Big World After All)

Security & Risk Mitigation

Integrated Innovation and Disruption at Target
Target Sessions:
In 2015, Target CEO Brian Cornell committed $7 billion to refurbish Target's 1,800 stores and revamp its digital operations, including investing in new technology like artificial intelligence, machine learning and data analytics. Service Management World has created a dedicated track including a keynote address, followed by four unique sessions that will deep-dive into Target's journey towards digital transformation.
Case Studies: Oct. 16- 17
Nearly one-third of this year's conference program features in-depth case studies from leading companies such as Chick-fil-A, Shopify, First American and more. Each case study will offer attendees a unique look into the key successes and lessons learned when implementing a successful service management strategy.
Executive Panel – Reinvigorating CX Through AI: Oct. 17, 2:45- 3:45 PM
In this panel, five respected industry executives from prominent companies such as Time Warner, ServiceNow and AISERA will discuss how AI can elevate service management alongside digital transformation. Through their expansive experience in ITSM, each executive will offer valuable insights on the most effective ways to utilize emerging technologies and implement them in your own service management strategy.
Day-1 Options: Oct. 15
3-day conference pass holders have the option to select from their choice of 1-day intensive workshops or a full-day golf outing. The 1-day intensive workshop makes it possible for attendees to receive firsthand training from industry experts on key trends including enterprise service management, change management, knowledge-centered service and more. The full-day golf outing gives attendees the opportunity to network with like-minded peers while golfing on Omni Resort's championship 18-hole golf course.
To learn more about the Service Management World 2018 conference program, please visit: ubm.io/SMWorldProgram
To download the 2018 brochure, please visit: reg.thinkhdi.com/SMW18_Brochure
Follow HDI on Social
Facebook ǀ Twitter ǀ LinkedIn
About HDI:
For over 30 years, HDI has partnered with thousands of organizations to improve their customer service and service management performance by educating their people, elevating their processes, and empowering their strategy. From C-level professionals to directors, managers, and frontline staff, HDI is the definitive source of industry information, leadership and performance planning. Through events, certification and training, consulting, membership and industry resources, HDI aims to transform service and support organizations and reimagine their approach to delivering exceptional service and value. Learn more at www.ThinkHDI.com. HDI is organized by UBM, which in June 2018 combined with Informa PLC to become a leading B2B information services group and the largest B2B Events organizer in the world.
To learn more and for the latest news and information, visit www.ubm.com and www.informa.com.
Heather Donner
HDIPR@ubm.com
415-947-6109
---