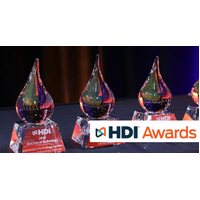 HDI Awards now taking submissions - Nominate today
An HDI Award is your chance to give your IT Pros industry-wide recognition.
If there was ever a year when ITPros deserved recognition - it is this year! Am I right? Nominate your Best Service and Support Technicians and Analyst for recognition. It's easy. It's FREE. And you also get recognition by your HDILocal chapter.
HDI and HDI Local Chapters judging panel is looking for amazing entries that celebrate the service and support industry and its people.
What innovations have your front line IT Pros helped with to take pandemic pivot customer service to new heights?
Do you have a shining star leading your team to success?
No doubt we have (and will continue to) overcome a lot this year. This is your chance to recognize memes of your team(s) who stand out and helped to lead through highs and lows.
Recognize them for their hard work and outstanding achievements.
The HDI Awards will provide a platform to recognize your people. You can also showcase your initiatives, creating value for your organization and inspiring all professionals in the service and support industry.
The deadline for 2021 HDI Award submissions is October 31, 2020.
---