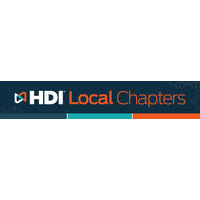 At this year's HDI Support World Live Conference in Las Vegas, I was once again asked – along with several fellow members of the Board of Directors – to address the conference audience about the value of the HDI Local Chapters network. At last year's conference, Tom Wilk and I spoke about "The Power of Connection". This year our merry band of pranksters spoke with the audience about "Our HDI Journey."
This is a topic that we could have each taken hours to cover, as each of our board members has had a unique and intriguing journey. In the interest of time at the conference, we put our heads together and came up with just a couple of moments that were illustrative of the impact that HDI Local Chapters have had on us professionally and personally.
Read Doug's whole article at: https://www.thinkhdi.com/library/supportworld/2022/doug-rabold-piece-hdi-swl-2022.aspx
Get the latest technical support and service management insights online, in-person, and in your inbox.
Leading the technical support field with tips and insights from experts around the globe, exclusive research, and strategies for all segments of the industry, HDI's SupportWorld helps you become the expert in technical support and service management. Subscribe today.
---