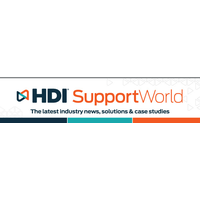 This week's Support World includes an interview with NJ Robinson who serves as Deputy Director of the 794th Communications Squadron of the United States Air Force and is part of HDI's Strategic Advisory Board. The board is composed of industry thought leaders, practitioners and solution providers who help HDI keep close tabs on the customer insights and support center and service management market developments. Craig Idlebrook asks NJ five questions for the article "You Must Accept and Adapt to Change". NJ shares that flexibility and soft skills are keys for longevity and success in the IT service and support industries. NJ is also an active member of the Capital Area Local Chapter.
Also in this edition of Support World:
"Why IT Roles Are Broadening" by Lisa Morgen, Freelance Writer for Information World. The world of IT is constantly evolving and with it, IT positions. However, there's no one path that will suit all organizations. Here, IT thought leaders share how they think the titles and roles will evolve in the near future.
"Take a Quiz on Your Organization's Mission Statement" Rose Polchin shares a way to assess your mission statement to ensure it acts as a north star to good outcomes for both your organization and your customers. There is a Quiz! and criteria for a solid mission statement. See where you land.
TREND REPORT - Driving Business Value with Next-Generation Service Management
Among the many factors that drove change in service management strategies in 2020, two stand out: the pandemic and digital transformation. Priorities and challenges suddenly changed, resulting in new mandatory requirements for a more agile, flexible, resilient approach to service management. This trend report explores four fundamental considerations as we look to the future for support organizations and service management:
The shifting landscape of expectation and value

The role and relevance of service and support in 2021

Next-generation service management

Enabling next-generation service management
---