The Demand for Skilled Talent is your look into the hiring trends making noise across the country. On our next LiveStream episode Wednesday, March 29th, Caleb Banks from Robert Half Talent will share how the hiring market is handling fears of a recession and how employers are dealing with persistent retention struggles as the quit rate remains high. Plus, more about where the job market is the hottest, with key insights into local postings, in-demand roles and which roles are yielding the greatest rates of remote opportunities.
Want to learn more? Join us #Live on https://www.twitch.tv/hdilocalchapters and https://www.linkedin.com/company/hdilocal/ every other Wednesday at at 4pm PT/7pm ET and replay available on YouTube https://bit.ly/HDILocalLivestream
Caleb Banks is a Sacramento-based Client Solutions Manager with Robert Half, the world's first and largest specialized talent solutions firm. Caleb is responsible for helping business leaders hire top tech talent into rewarding positions with companies across the Greater Sacramento and Central Valley area. Caleb's background includes data analysis and research for a healthcare consulting firm and he was also involved with a Cognitive Neuroscience Research Center at the University of California, San Francisco (UCSF). Caleb holds his bachelor's degree in Psychology from the University of San Francisco and a master's degree in public policy and management from Carnegie Mellon University. Additionally, Caleb is a published academic author.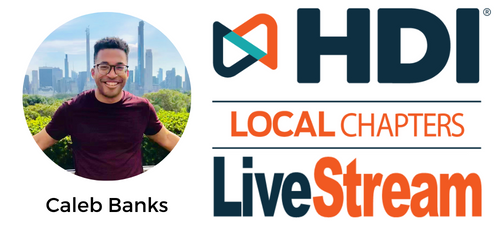 ---