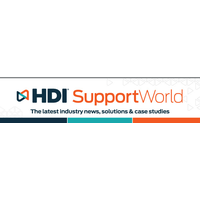 Once customer experience was something IT service and support put on the backest of backburners. The concept has now become front and center in the competitive IT landscape. In the May 21st edition of Support World, Doug Rabold has a somewhat heretical suggestion for how to meet that demand in his article "Hire IT People With More Than IT Skills". Often, it requires more than raw IT skills to deliver great IT support for customers and clients. In a follow up article "How to Recruit and Hire Non-IT People for IT Roles", Doug discusses how to change your hiring process and recruitment process to find people who have some IT skills and versatility, and provide a strong customer experience.
Also in this edition of Support World:
"Pandemic Lessons in Parenthood and Leadership"
When her work life and home life collided during the pandemic, Holly Terrill realizes that her parental skills and her managerial skills often overlap. Here's what she learned from the experience after a year leading from the home office. Holly Terrill oversees the contact center and interactive services teams at Meritrust Credit Union as the Director of Member Support Services. She has over 20 years of customer service and financial institution experience and has supported the contact center for nearly 8 years
"Remember Why you Are There: To Help People"
Craig Idlebook asks 5 questions of Roy Atkinson, CEO and Principal Advisor at Clifton Butterfield. Roy is part of HDI's Strategic Advisory Board, composed of industry thought leaders, practitioners and solution providers who help us keep close tabs on the customer insights and support center and service management market developments.
---