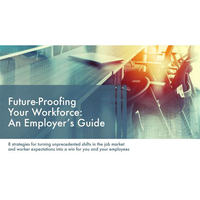 New Guide Offers Insights to Future-Proof Your Workforce
On our next LiveStream episode this Wednesday, July 20, Zach Jiru from Robert Half Talent will share with the team some insights on how to Future-Proof your workforce. Join us Wednesday July 20th and learn more at 4pm PT/7pm ET #Live on #Twitch https://www.twitch.tv/hdilocalchapters
According to a Robert Half survey, 54% of professionals currently working from home said they would look for a new job if their employer required them to return to the office. The workforce is evolving due to significant shifts over the last few years and employees' expectations have changed. Professionals seek flexible work options, career advancement and purpose in their work — and often find this in a new job.
While this can be concerning news for companies, a new resource from Robert Half, Future-Proofing Your Workforce: An Employer's Guide, has insight into the latest hiring trends, what workers want and how to prepare your technology team for the future. The guide outlines eight shifts in the job market and worker expectations. From reassessing the office's role and embracing changing employee expectations to providing opportunities for upskilling and reskilling, discover new strategies to increase employee satisfaction and adapt to the modern workplace.
Want to learn more? Join us #Live on https://www.twitch.tv/hdilocalchapters Wednesday at at 4pm PT/7pm ET and replay available on YouTube https://bit.ly/HDILocalLivestream
#HDILocal Chapters - brings #TechnicalSupport and #ServiceManagement professionals together to connect, share and discuss common challenges, and learn from industry innovators.
---