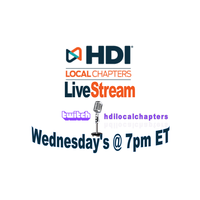 Our # HDILocal LiveStream is up to two dozen shows and so we thought... Hey! We should tell people a little more about us (HDI Local Chapters). Join host Tom Wilk Wednesday, May 5th at 7 pm ET for a fun and lively conversation with three prominent HDI Local Chapter community members to talk about "Why to HDI"
https://www.twitch.tv/hdilocalchapters
Sandy Seroskie (Past Chair) will start out the conversation by giving us a brief history of HDI. David Cole (Chair) will talk about what we have been up to the past year. Doug Rabold, ITIL, HDI (President) will share with us the vision and direction of HDI. Then they will share why HDI has been an important part of their career growth.
#thinkhdi #itcareers #community #nonprofit #growth #networkingworks #learningeveryday
---